What Are Felties?
Felties are handmade, needle-felted creatures, characters from a world not quite like ours. The Feltie World is peaceful, without wars, greed, or poverty. Felties are naturally kind, and although many have important jobs, they are only expected to do work they love. Playful and humorous, they enjoy life thoroughly.
All of the Felties are handcrafted in Eugene, Oregon, from natural, 100% wool fibers using a  dry-felted technique. Each Feltie is one of a kind, with their own name and story accompanying them. You can see these adorable creatures in the Shop!
Although each Feltie is unique, I do recreate them by type. For example, if you see a penguin that you like and it is later sold, I can make you another penguin, but it will have a different name and story. I do take special orders, and have often made memorial dogs, cats, and other creatures for customers. Please Contact me if you would like your pet immortalized in felt.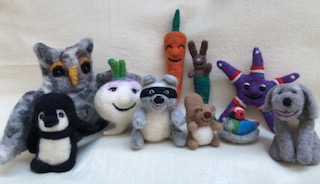 Please keep your Feltie away from predators like cats and dogs. If your Feltie suffers an accident, you may send it to the Feltie Infirmary for repairs. Felties do shrink after being immersed in water, but may be sponged gently to remove dust. Note: Felties are even more adorable than they appear on line.
Felties live in harmony with each other, and although they do intermarry between species, they are often identified by their birth clans.
Select your Feltie in the Shop.  Or, to order a custom Feltie, please Contact me.